Staff Selection Commission is going to conduct the Common Graduate Level Examination in 2014. The Tier 1 exam for SSC CGL will be conducted on April 27, 2014 and May 4, 2014.
Coaching centres all over India are providing full courses for the preparation of SSC CGL 2014 but there are lakhs of candidates who can't afford coaching and prefer to self study. For such candidates, selection of right books is really important to secure good maximum marks possible.
So, today we are sharing the best books available in the market for the preparation of all subjects. These books are helpful for the re-examination of SSC CGL 2013 also(at some centres only).
First, let's have a look at the SSC CGL 2014 Tier 1 Paper Pattern: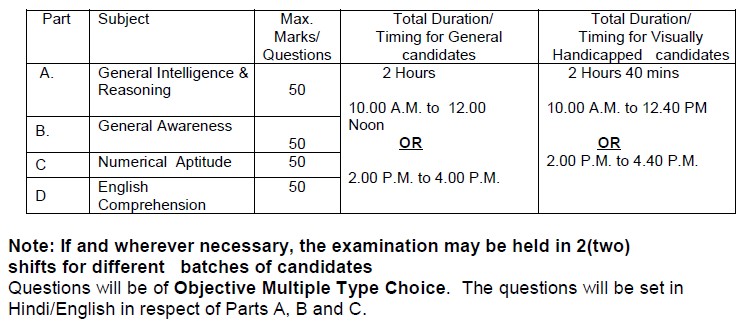 Here's the paper pattern of SSC CGL Tier 2(Mains) Exam 2014:
1) Numerical/Quantitative Aptitude: 100 Questions, 200 Marks, 2 Hours
2) English Language: 200 Questions, 200 Marks, 2 Hours
So, your focus should be more on Mathematics and English language to secure good marks.
Let's take a look at the Best Books for SSC CGL 2014 below:
A) English Language:
1) General English by Lucent Publications: This is by far the best book available in the market for the preparation of all entrance exams. The content in this book is written in both English and Hindi language for easy understanding. All the concepts are explained in a crystal clear and step by step manner. Hundreds of rules of English grammar are given in this book chapter wise, so you will cover each and every aspect of English language.
2) SSC Combined Graduate Level English Language & Comprehension by Kiran Publications: This book is written specially for SSC CGL exam, keeping in mind its exam pattern and previous years' questions. Really useful.
3) SSC English Language Chapterwise Solved Papers 1997-Till Date: All the English language questions asked in the last 17 years in all SSC exams. As SSC repeats many questions from its previous years' papers, this book is really helpful.
B) General Intelligence and Reasoning:
1) A Modern Approach To Verbal and Non-Verbal Reasoning by RS Aggarwal: The best and only book you need to prepare for this section. Every topic is covered in detail in this book.
2) SSC Reasoning Chapterwise Solved Papers 1999 Till Date: It contains Chapter wise Compilation of reasoning section of Previous Years' Papers of all Exams Conducted by SSC (CGL, CHSL ,FCI ,Delhi Police,SI etc.).
C) General Awareness: General Awareness is a very tricky section. No matter how much you prepare for this, still you will find lots of tough questions. So my advice would be to focus on current affairs more, there would be around 10-15 questions of current affairs and for the rest of the part, read one of the books given below.
1) Lucent's General Knowledge 4th Edition: A comprehensive book that covers an exhaustive range of topics such as History, Geography, Economy, Polity, Science, etc.
2) General Knowledge 2014: Essential 'Knowledge Capsule' in General Awareness and Current Affairs by Manohar Pandey(Arihant Publications) I strongly recommend this book as you can do it within a week and it covers the entire General awareness in a concise manner.
3) SSC General Awareness Chapterwise Solved Papers (1997 – till date): Chapter wise solved previous years' questions of SSC exams.
D) Numerical Aptitude/Maths:
1) Quantitative Aptitude For Competitive Examinations by R. S. Aggarwal One of the best book for basic Quantitative/Numerical Aptitude. It will help you learn all the basics of mathematics.
2) SSC Combined Graduate Level Tier-II Exam, Arithmetical Ability Objective Type by Kiran Prakashan: This book is written especially for SSC CGL Tier 2 exam with detailed explanation of topics according to the new syllabus and hundreds of previous years' question papers. It also provides 20 model practice sets for you to practice and improve your speed.
3) Fast Track Objective Arithmetic by Arihant: This is another great book for Mathematics to improve your speed and efficiency with thousands of shortcuts. It covers all the topics with so many formulas, concepts, shortcuts, examples and thousands of questions to practice.
If book is not available on Flipkart, buy it on Amazon:
4) SSC All Graduate Level Exams Solved Papers 1997 Upto Date: Chapter wise solved questions from all SSC exams from 1997 up to now.
5) Quantum CAT: Quantitative Aptitude Common Admission Test for Admission Into IIMs by Sarvesh K Verma(Arihant): If you don't want to leave anything, this is another great book.
6) Mathematics (Class 10) 7th Edition by R D Sharma: This book is really useful if you want to clear your basics about Trigonometry, Geometry, Mensuration, Algebra, etc.
E) SSC Statistics Practice Work Book, Tier – II (Paper – III):
Apart from books given above, we would also recommend candidates to buy previous years' question papers as you can get a basic idea about the SSC CGL paper pattern and questions.
SSC Combined Graduate Level Tier-I and Tier-II Exam: Solved Papers 2010, 2011 and 2012 by Kiran Prakashan
You can also download question papers of SSC CGL 2013 Tier 1 and Tier 2 here.
All the best to all the aspiring candidates. You can also suggest some good books for SSC CGL 2014 in the comments below.