SSC CGL 2013 : Syllabus and Paper Pattern For Tier 1 & Tier 2 Examination
SSC Common Graduate Level(CGL) Exam 2013 will be held in April, 2013. Initially, SSC CGL Tier I exam will be held in April and candidates qualifying Tier 1 examination will be eligible for Tier 2 examination. There are many doubts among the students about the exact syllabus of SSC CGL exam. So, today we will explain the syllabus for SSC CGL Tier 1 and 2 examination.
SCHEME OF THE EXAMINATION FOR COMBINED GRADUATE LEVEL EXAMINATION
The Scheme of the Examination will be conducted in three tiers as indicated below:
1st Tier — Written Examination (Objective Multiple Choice Type)
2nd Tier — Main Written Examination (Objective Multiple Choice Type)
3rd Tier — Personality Test /Interview or Skill Test, where applicable
Candidates opting for post of Sub-Inspector in CPOs will be
required to undergo Physical Endurance Test (PET)/Medical
Examination at any convenient time after declaration of result of
Tier I.
(1) Syllabus and Exam Pattern for Combined Graduate Level (Tier-I) Examination:
Tier –I of the CGL Examination would be common for all categories of CGL posts. Scheme of Tier-I Examination for all candidates including Visually Handicapped candidates with visual disability of forty percent and above and opting for availing the assistance of scribe.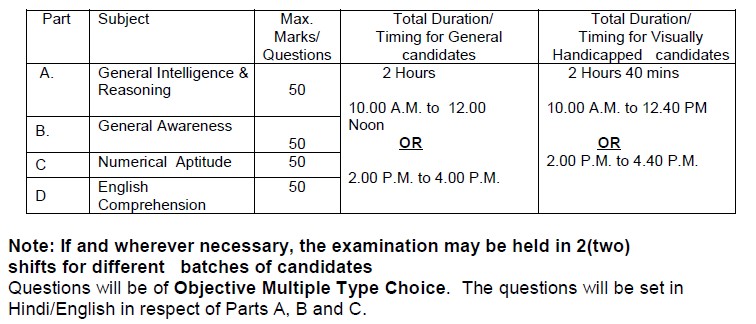 Syllabus of SSC CGL Tier 1 Examination
A. General Intelligence & Reasoning : It would include questions of both verbal and non-verbal type. This component may include questions on analogies, similarities and differences, spatial visualization, spatial orientation, problem solving, analysis, judgement, decision making, visual memory, discrimination, observation, relationship concepts, arithmetical reasoning and figural classification, arithmetic number series, non-verbal series, coding and decoding, statement conclusion, syllogistic reasoning etc.
B. General Awareness : Questions in this component will be aimed at testing the candidates general awareness of the environment around him and its application to society. Questions will also be designed to test knowledge of current events and of such matters of every day observations and experience in their scientific aspect as may be expected of any educated person. The test will also include questions relating to India and its neighbouring countries especially pertaining to sports, History, Culture, Geography, Economic Scene, General Polity, Indian Constitution, scientific Research etc. These Questions will be such that they do not require a special study of any discipline.
C. Numerical Aptitute : The questions will be designed to test the ability of appropriate use of numbers and number sense of the candidate. The scope of the test will be the computation of whole numbers, decimals and fractions and relationships between numbers. It will test sense of order among numbers, ability to translate from one name to another, sense or order of magnitude, estimation or prediction of the outcome of computation, selection of an appropriate operation for the solution of real life problems and knowledge of alternative computation procedures to find answers. The questions would also be based on arithmetical concepts and relationship between numbers and not on complicated arithmetical computation (The standard of the questions will be of 10+2 level).
Topics include Algebra, Surds, Sets, Number Systems, Trigonometry, Geometry, Mensuration, Profit and Loss, Ratio & Proportion, Decimals, Arithmentic Operations, Interest, Time & Distance, Graphs, Fraction, Percentage, Average, etc.
D. English Comprehension : Candidates' ability to understand correct English, his basic comprehension and writing ability, etc. would be tested.
(The questions above in the category A, B and D will be of a level commensurate with the Essential Qualification prescribed for the post viz; graduation).
(2) Syllabus and Exam Pattern for Combined Graduate Level (Tier-II) Examination:
Tier-II of the Combined Graduate Level Examination will also be of Objective Type Multiple Choice. It will consist of three different papers/subjects and depending upon the category of posts applied for, the candidate will be required to appear in one, two or three papers, as the case may be.
FOR THE POST OF ASSISTANTS, INSPECTOR OF INCOME-TAX/INSPECTOR (CENTRAL EXCISE,INSPECTOR(PO), INSPECTOR(EXAMINER) SUB INSPECTOR IN CBI, INSPECTOR OF POSTS, ASSISTANT ENFORCEMENT OFFICER, DIVISIONAL ACCOUNTANTS,ACCOUNTANTS, AUDITORS, TAX ASSISTANTS, UDCs, THE EXAMINATION WILL CONSIST OF TWO PAPERS AS UNDER: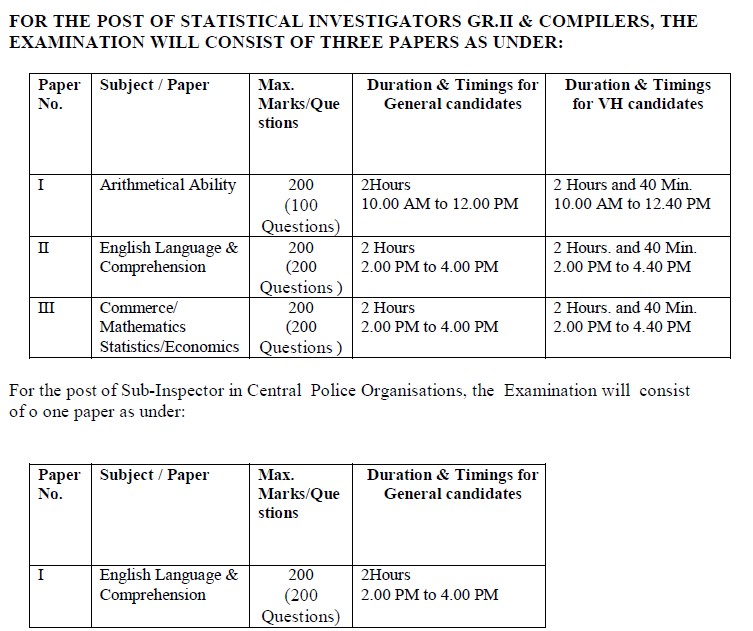 NOTE:
1. Only those candidates who qualify in all the papers as well as in the aggregate would be eligible to be considered for being called for the Personality Test/ Interview and/or Skill Test.
2. There will be different set of Questions for the papers on Arithmetic & General Studies for Visually Handicapped (VH) candidates which shall not have any component of Map/Graphs/Statistical Data/ Diagrams/Figures/Geometrical problems/Pie-chart etc. However, components of other papers will be the same as that for general candidates.
Syllabus of SSC CGL Tier 2 Examination
Paper-I(Arithmetic Ability): This paper will include questions on problems relating to Number Systems, Computation of Whole Numbers, Decimals and Fractions and relationship between Numbers, Fundamental Arithmetical Operations, Percentage, Algebra, Surds, Ratio and Proportion, Average, Simple and Compound, Interest, Profit and Loss, Discount, Use of Table and Graphs, Mensuration, Time and Distance, Geometry, Trigonometry, Ratio and Time,etc.
Paper-II(English Language & Comprehension): Questions in this components will be designed to test the candidate's understanding and knowledge of English Language and will be based on error recognition, fill in the blanks (using verbs, preposition, articles etc), Vocabulary, Spellings, Grammar, Sentence Structure, Synonyms, Antonyms, Sentence Completion, Active and Passive Voice, One word substitution, Direct & Indirect Speech, Phrases and Idiomatic use of Words, etc. There will be a question on passages and comprehension of passages also. (The standard of the questions will be of 10+2 level).
See Also: Download the question papers of SSC CGL Tier 1 exam 2013.
Paper-III : Commerce/Mathematics/Statistics/Economics for Investigator Grade-II, for Ministry of Statistics & Programme Implementation and Compiler for Registrar General of India, Ministry of Home Affairs. For complete syllabus of the third paper – click here.
If you have any doubts or queries regarding the syllabus of SSC CGL Examination, ask us in comments. We'll try to solve all your queries.
Comments
comments